Fairtrade Africa organised a joint cocoa review and planning meeting for Fairtrade Certified producer organisations in Ghana, under its West Africa Cocoa Programme (WACP).
WACP was launched in 2016, with an aim to strengthen Fairtrade cocoa cooperatives as membership organizations and business partners, leading to long-term trading relationships and, ultimately, living incomes for farmers.
The programme provides training, coaching and advisory support to Fairtrade certified cocoa cooperatives and their farmer members.
The meeting was held in Kumasi, South-Central Ghana from 9th -11th February 2021 to plan for 2021 programmes, review achievements, challenges and agree on ways of improving the mode of implementation of Fairtrade activities with the cooperatives present, taking feedback from the cooperatives themselves and from key stakeholders such as COCOBOD, Department of Cooperatives, Department of Social Welfare, CHED, AVSF and FairTrade Ghana.
As part of the implementation of WACP, Fairtrade Africa aims to strengthen producer organisations to develop good governance structures, improve internal management systems, provide better access to the market and adopt good agricultural and environmental practices.
The meeting provided peer-to- peer learning among producers on best practice initiatives undertaken in the previous year.
BUILDING FARMER RESILIENCE AND RECOVERY
Best practices were shared on farmer resilience and recovery, with a focus on income diversification initiatives that had been undertaken to support farmers and workers through the Fairtrade relief funds such as Producer Relief and Resilience Funds, Recover Africa Funds (with support from the GIZ), and other funds received from the Swiss government.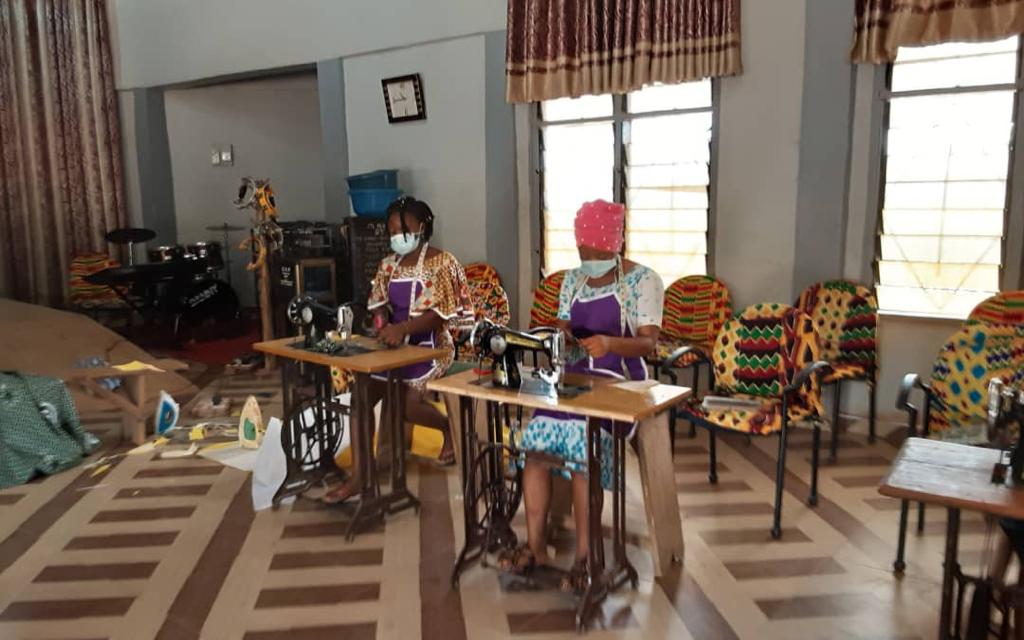 Through such funds, farmers have been able to provide sanitary items such as face masks, hand sanitisers and relief items to protect their members through the Covid pandemic.
Some producer organisations such as Asunafo North Farmers Union and Kuapa Kooko have also started income diversification projects namely bead-making, baking and pastry making, soap making, sewing of face masks to support their members. Some of these initiatives were also undertaken through funds received from Fairtrade and other premiums.
Organisations such as West Akyem Farmers Union embarked on activities to support vegetable growing, provision of farm implements such as insecticides and liquid fertilizers. Knapsack sprayers were also donated to over 100 farmers.
Speaking at the meeting, Cocoa Team Leader for Ghana at Fairtrade Africa, Abubakar Afful emphasised Fairtrade's commitment to empowering farmers and producer organisations in line with Fairtrade Africa's 2021-2025 strategy to build product and market, advocate on issues affecting producers, build sustainable farming systems, as well as transformative, inclusive, resilient and sustainable organisations.
The Programme Team Leader mentioned the Covid pandemic has presented them with some challenges but also some opportunities.
He encouraged the producers to take advantage and adapt to new ways of working and also continue to educate their members on safety protocols.
Also speaking at the meeting, Charles Gyamfi – Deputy Ashanti Regional Manager, the Cocoa Health and Extension Division (CHED) of COCOBOD, outlined several programmes that are geared towards improving the livelihoods of cocoa farmers, indicating that Ghana COCOBOD has started data collection for the Cocoa Management System and encouraged all farmers to participate to help improve data on all farmers.
He noted that productivity enhancement programmes including pollination, fertilizer application, irrigation, cocoa rehabilitation, CODAPEC will continue to be carried out with farmers through the extension unit.
PARTNERING WITH STAKEHOLDERS TOWARDS DATA DRIVEN FARMER INTERVENTIONS AND SOCIAL IMPACT
Dr Isaac Manu, Deputy Manager – Research, Monitoring and Evaluation at COCOBOD Head office, emphasised that the cocoa management system of COCOBOD when completed will synchronize all data and therefore give the opportunity to farmers to be linked to credit facilities, input companies, pension schemes and also help improve traceability systems as well as get detailed information on each cocoa farmer and their household. He called for a partnership between farmer cooperatives and Ghana COCOBOD.
The Fairtrade producers at the meeting shared their work in promoting education and other sectors in their communities. For example, Asunafo North Union reported the distribution of 70,000 exercise books and the provision of educational support to 120 students at the tertiary level within the Asunafo North Municipality.
Harrison Tete-Donkor, Ahafo Regional Director of the Department of Social Welfare who was also present at the meeting said:
I am happy to be among farmer cooperatives who are doing all these to contribute to society
He encouraged all producers to take child labour issues seriously.
Richard Mensah, Ashanti Regional Director, Department of Cooperatives, thanked the Cooperatives for their immense contribution to the development of society.
He encouraged the Cooperatives to continue to adhere to the Cooperatives Principles to make their organisation stronger especially in the area of governance and improving the leadership skills. Beyond premiums, he advised the cooperatives to ensure that their organisations are financially sustainable.